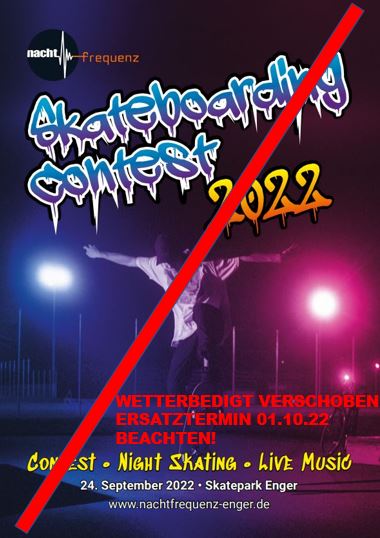 In ganz OWL ist der Enger Skateboardpark seit Jahren bekannt und beliebt. Es ist ein kleiner ("enger") aber gut gestalteter Park, der mit Obstacles wie Quarter, Hausdach, Stairs, Rail und Curbs…das Skaterherz erfreut. Eine Location zum Skaten, Chillen, Freunde treffen. Hier finden coole Events und Skateboardcontests statt. Skaten hat in Enger Tradition! Wir laden alle Skateboarder:innen zum Enger Skate Event ein.
Und nun zu den Teilnahmebedingungen…(sorry, das Jugendzentrum als Veranstalter muss einige Vorgaben einhalten)
Beim Skateboarding-Contest werden die Kategorien bester Trick,
bester Run und Game of Skate bewertet. Es wird eine
fachkundige Jury (Judges) geben, die die Leistungen der
einzelnen Teilnehmer:innen bewertet.
Die Siegerehrung findet am Abend auf der Bühne am Skatepark statt.
Im Rahmen der Preisvergabe werden Gewinne in Form von
Gutscheinen und oder Merchandise von den Skateshops Titus,
ZigZag, Slider, Marschall Skateboards, ASI Berlin und Alte Schule
vergeben. Außerdem gibt es kleinere Merch – Mitmachgewinne.
Parallel zum Contest findet ein Bühnenprogramm mit Livebands
statt.
Anmelden könnt ihr Euch vor der Veranstaltung hier über die
Eingabemaske der Homepage.
Die Registrierung erfolgt am 24.09.2022 ab 13.00 Uhr am Skatepark.
Bei minderjährigen Teilnehmer:innen ist die Unterschrift eines
Erziehungsberechtigten erforderlich. Hierzu muss das
Anmeldeformular + Haftungsausschluss ausgedruckt und
unterschrieben an uns gemailt oder bis zum
15. September 2022 abgegeben werden.  
Während der Fahrten besteht eine HELMPFLICHT für alle unter 18 Jahren!
Helme werden vom Veranstalter zur Verfügung gestellt.
Ab 18 Jahren besteht die Möglichkeit den ausgedruckten
unterschriebenen Haftungsausschluss bei der Registrierung abzugeben.
Wir begrüßen es auch, wenn die Fahrer:innen alle anderen Protektoren
benutzen (Arm, Knie, Handgelenk etc.).
Ohne unterschriebenen Haftungsausschluss darf nicht gestartet werden.
Eine Startgebühr wird nicht erhoben.
Nach dem Contest ist freies Skaten unter Flutlicht angesagt!
Für Fragen zum Event könnt Ihr eine E-Mail an das Jugendzentrum
Kleinbahnhof senden oder dort anrufen:
Kinder- und Jugendzentrum Kleinbahnhof Enger
Bahnhofstraße 52, 32130 Enger
Telefon: 05224/7755
E-Mail: team@kleinbahnhof.de


Wir freuen uns auf Euch!
An dieser Stelle noch ein fettes Dankeschön an den Herforder Skate Club e.V. und die Paderborner Asphaltsurfer e.V. für die professionelle Unterstützung!
CONTEST FACTS
Datum / Uhrzeit: Samstag, 24.09.2022, ab 13 Uhr (Registrierung)
Start: ca. 14.00 Uhr
Ort: Skatepark Enger (siehe Karte auf der Startseite)
Kategorien:
BEST RUN – BEST TRICK (STUFF FOR TRICKS) – GAME OF SKATE
Starterklassen: Die Einteilung erfolgt nach Klasse A – gesponserte und Klasse B – ungesponserte Fahrer:innen.
Startreihenfolge: Auslosung der Slots oder nach Registrierung des Starterfeldes am 24.09.2022
Besonderheit: HELMPFLICHT (unterschriebener Haftungsausschluss)
Ohne unterschriebenen Haftungsausschluss darf nicht gestartet werden!!!
Preise: Gutscheine und Merchandise von Skate-Shops
Titus, ZigZag, Slider, Marschall Skateboards, Alte Schule und ASI Berlin
Anmeldung: über die Webpage – www.nachtfrequenz-enger.de –
Minderjährige müssen das Anmeldeformular unterschreiben lassen!!!
Ersatztermin – bei schlechtem Wetter (nasse Skatefläche):
01.10.2022 – 14 Uhr  
Highlights: Livebands / Fingerboard-Parcours / Skateboard-Legende – Guenter Mokulys / Night-Skating